On December 19, 2021, Western Mass Science for the People co-sponsored this Community Dialogue on Mold and Health, hosted by our grassroots partner Arise for Social Justice (in Springfield, MA) and featuring Dr. Christine Rogers, formerly a faculty member at UMass Amherst and now Director of Research Safety at Cornell University. Christine has offered invaluable support for the Mold Action Committee, a project of Arise for Social Justice supported by Western Mass SftP.
********************
NOTE: The following details efforts we made in 2019 to help change the Massachusetts state Sanitary Code to better address the health hazards of mold in indoor spaces. The state has STILL not finalized the changes to the Sanitary Code, and repeated efforts to learn WHEN the changes might be finalized have been unsuccessful. In the meantime, Western Mass Science for the People has continued to collaborate with Arise for Social Justice in Springfield to educate the public about the issue and to equip people in need with HEPA air purifiers. We will update this page when we know more about the legislation.
TAKE ACTION ON MOLD!
The Massachusetts Department of Public Health has recently released the second version of proposed changes to the state Sanitary Code. If the changes pass, it will be easier for tenants to get assistance from health officials to fix problems that lead to mold contamination in their homes. We want to encourage them to follow through with these changes!
However, there are also some problems with the proposed changes. We want to make sure they fix those problems before they adopt the changes!
Please use these talking points along with your own personal stories related to mold and housing. You may deliver your testimony in person at a scheduled hearing:
September 17, 2019, at 10:00 a.m. in the large conference room at the Department of Public Health Western Regional Office, 23 Service Center Road, Northampton, MA
September 19, 2019, at 10:00 a.m. in the Public Health Council Room at the Department of Public Health, 250 Washington Street, Boston, MA
September 24, 2019, at 10:00 a.m. in Room 109 at the Worcester Health Department, 25 Meade Street, Worcester, MA
You should also email a document in Word (.doc) format that includes your name and address. Email it to Reg.Testimony@state.ma.us and put 105 CMR 410.000: Minimum Standards of Fitness for Human Habitation (State Sanitary Code, Chapter II) in the subject line. You may also consult our letter as a model, but we encourage you to write a letter in your own words, as these will have greater weight with the DPH.
WHAT WE LIKE ABOUT THE PROPOSED CHANGES
The focus on "dampness" promotes preventative action. The board of health will not have to prove the existence of mold to declare a residence unfit for habitation. Water leaks and other problems can be fixed

before mold grows.


The revisions allow for occupants to request inspections anonymously. They also protect the right of occupants to request inspections even if there are eviction notices or disputes with the landlord. This will help protect the most vulnerable tenants.    
WHAT NEEDS TO BE ADDED TO MAKE THE NEW CODE WORK
Positive test results for mold should be admissible as evidence of a problem that requires action.

The proposed amendments state that environmental test results for mold will not count as violations of the Code. This is a big problem, because high levels of mold can be present even when dampness is not detected or obvious. This is especially true if there was a past flood that created mold that was not properly cleaned up even though surfaces may be dry. We are arguing that positive test results for mold should be admissible as evidence of a problem that requires further investigation or remediation, especially when occupants are presenting with symptoms related to mold exposure.

Dampness should include not just "chronic" problems, but also single events that caused mold growth. The proposed amendments rely heavily on the term "chronic dampness," which is problematic because it excludes one-time water events that, if not properly cleaned, can produce lasting mold problems. It also doesn't define how long a dampness situation would exist before being considered "chronic."

The Code must require owners to clean up contaminated materials in accordance with EPA guidelines. It is not enough just to fix the source of the dampness problem. Carpets, wallboard, and other materials that have been contaminated by mold must be cleaned up to prevent health hazards. It's important to require compliance with EPA guidelines to prevent substandard "mold remediators" from cheating owners and residents.

The Code should require the use of a moisture meter to identify dampness.

The proposed amendments do not specify how inspectors will determine whether a residence is too damp for habitation. We recommend the use of a moisture meter with general guidelines for what constitutes dampness beyond acceptable levels.
HEALTH CONSEQUENCES OF MOLD
DANGERS FOR PEOPLE WITH ASTHMA:

Exposure to mold can cause or worsen asthma and other forms of respiratory illness, leading to more emergency room visits, more absences from school and work, and even death. Springfield has been rated the worst place for asthma in the U.S. Reducing mold exposure is an excellent way to reduce asthma suffering in Springfield.

DANGERS FOR PEOPLE WITH ALLERGIES:

People with allergies are often more sensitive to molds. People who are exposed to greater amounts of mold may have severe reactions, including shortness of breath.

DANGERS FOR PEOPLE WITH WEAK IMMUNE SYSTEMS OR LUNG DISEASES: If they are exposed to mold, people with weak immune systems (for example from cancer, transplants, or immune-suppressing medicines) or lung diseases can get fungal infections in their lungs and can develop serious allergic reactions.

ANYONE CAN SUFFER FROM MOLD:

Even people without allergies or serious illnesses can suffer from mold. Mild symptoms that anyone may experience include stuffy or runny nose, coughing or wheezing, and red or itchy eyes, or itchy skin. If landlords don't clean up the mold contamination, tenants can suffer from these symptoms for a long time.
PROBLEMS FACED BY TENANTS IN THE CURRENT SYSTEM
The current system places enormous burdens on the people suffering from mold.

Landlords and housing court judges are often ignorant as to the problems with mold and the proper steps that should be taken when mold is found.

Because there is no explicit recognition of mold in the current Sanitary Code, there is a lack of government oversight. Even if tenants can afford to pay mold inspectors out of pocket, it is difficult for them to find inspectors who are truly knowledgeable. Also, landlords are currently able to refuse to allow inspectors on their property.

Political and economic pressures (including eviction and homelessness) make it harder for tenants to get what they need from landlords, especially when the State Sanitary code offers no specific language.

When landlords don't deal with the underlying mold problem, tenants are compelled to spend enormous amounts of time weekly or even daily washing their walls to keep the mold spores down.
PROBLEMS FACED BY HOME OWNERS IN THE CURRENT SYSTEM
Home owners often lack good information on mold and are dependent on unregulated private contractors to determine whether they have a mold problem.

Mold infestations can be very expensive to remediate, especially for elderly and low-income people. If the state begins recognizing mold as a serious health problem, resources should be mobilized to help people with these expenses, as is done with lead removal through the Massachusetts Lead Removal Tax Credit.
PROBLEMS FOR THE COMMONWEALTH IN THE CURRENT SYSTEM
Without strong support from the Sanitary Code, tenants may have no other recourse than to file lawsuits in civil court, creating unnecessary burdens on an already stretched public resource.
***************************************************************************8
MORE INFORMATION ON THE CAMPAIGN
Western Mass Science for the People has partnered with the Springfield grassroots organization Arise for Social Justice to pursue a community campaign on mold, housing, and health. We had been looking for ways to be useful to local communities in the spirit of the best solidarity science work. Then Tavar and Lisa from Arise came to an SftP meeting at UMass and shared the story of "Tatiana the Mold Lady." A Springfield mom, Tatiana has developed a community reputation for her expertise (earned the hard way) on mold: her son suffers respiratory problems from exposure to mold in their home. Sadly he is not alone: mold is a significant contributor to asthma, and Springfield has recently been named the "most challenging place in the U.S. to live with asthma" by the Asthma and Allergy Foundation of America.
A number of other local organizations are working on this important issue, including the Pioneer Valley Asthma Coalition and Springfield Healthy Homes. We're excited to contribute in our own way, forging solidarities between STEM workers and community members.
We expect to be mobilizing our network this summer to testify in favor of supporting the amendments to the Massachusetts Sanitary Code currently under consideration by the Department of Public Health. The current code has no specific provisions regarding mold; the proposed amendments address this gap among numerous others. The full text of the current code with the proposed changes is available here.
Our activities so far:
Tabling at Juneteenth Celebration, Hennessey Park, Springfield We had a Science for the People table at the Juneteenth Celebration organized by Arise for Social Justice. We passed out information on mold and offered prizes to people who correctly answered questions on a quiz, and we also gathered name and contact information so that we can mobilize people for future actions. Brian Schultz (entomologist at Hampshire College) brought his microscope with a mold sample for people to view, along with an assortment of insect specimens that inspired many children (and a few adults)! We handed out game boards and instructions for two African games that involve logic and mathematical principles. And we demonstrated (as in previous events) the way vinegar stops yeast (and by extension, mold) from growing. A great time was had by all!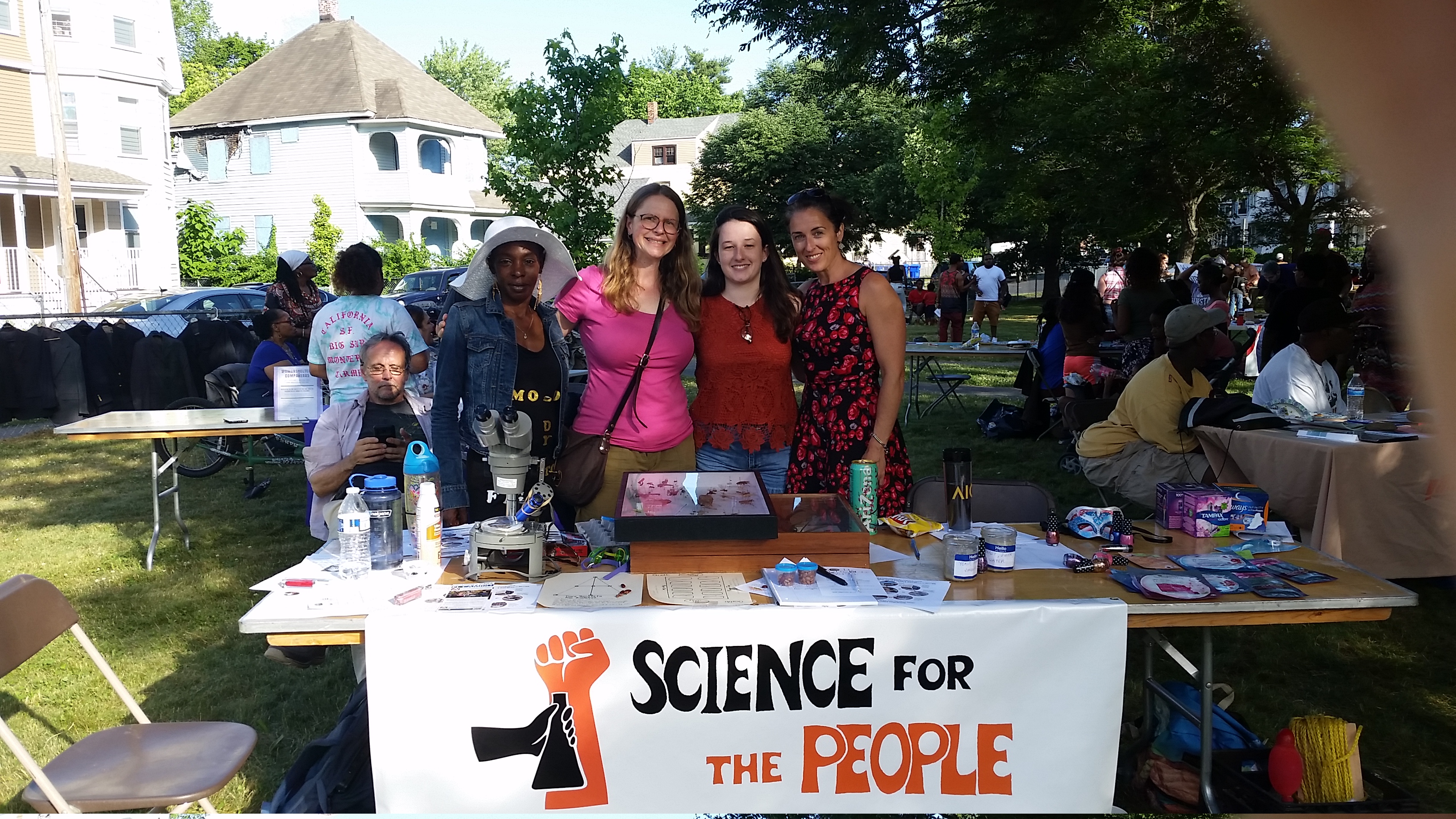 Rally and Civil Disobedience with the Poor People's Campaign. A number of our members joined the rally in Springfield's Court Square on Monday, June 4th for the fourth week of protests organized by the revived Poor People's Campaign, originally launched by Martin Luther King in 1968. The theme for this week was the Right to Health and a Healthy planet — obviously relevant to SftP and to our ongoing collaboration with Arise for Social Justice. Tatiana gave a powerful speech on her personal and political battles with mold, followed by her son Davaughn's Mold Rap. Tatiana and Sigrid then engaged in civil disobedience with 19 other people at the state government headquarters in Springfield. The mayor had gotten wind of the plans and had rushed to comply with longstanding demands to fund a city sustainability coordinator and establish guideposts for fossil fuel reductions. So we had an important victory before we even began and were able to shift our target to the governor's office. The flyer for the event is here. And here's a photo of one of our signs at the rally, as captured on local news: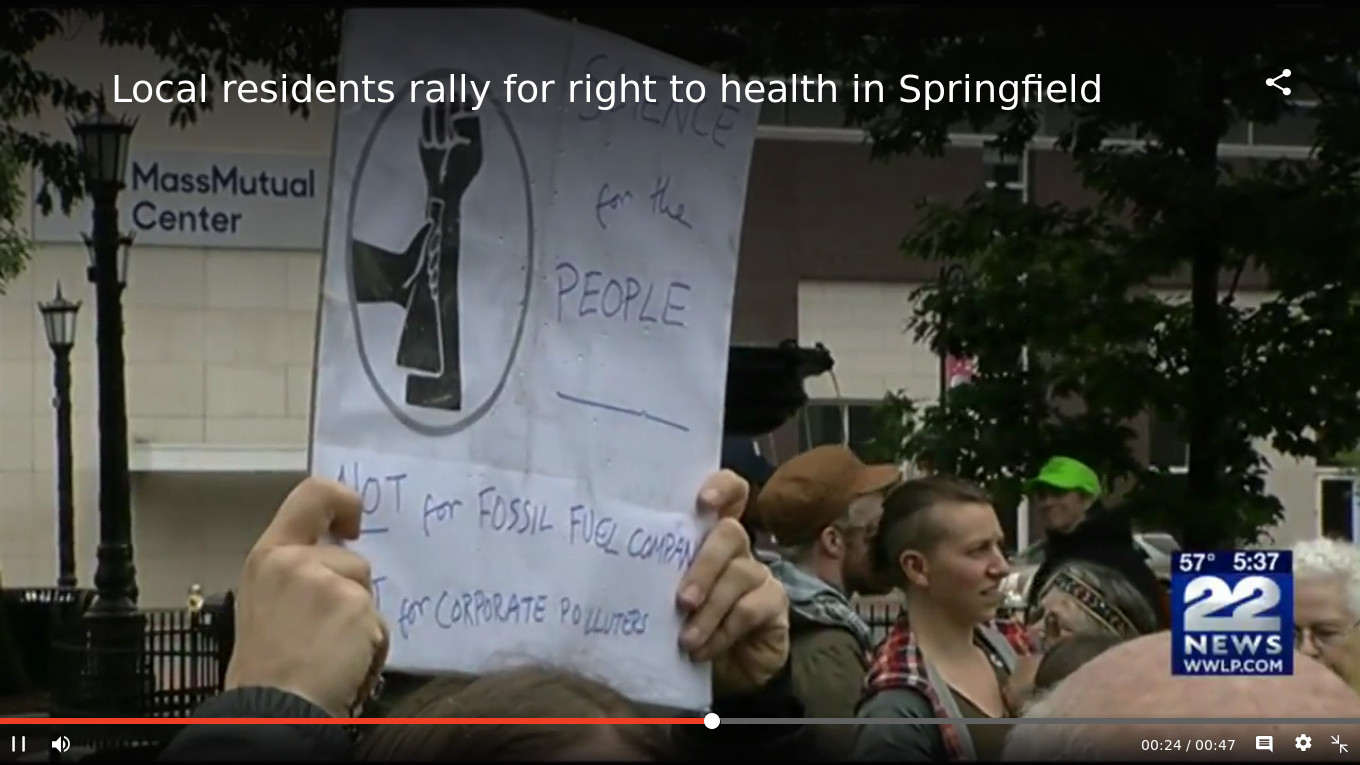 Tabling at the Mason Square block party, organized by the MLK Jr. Community Center of Springfield. This was a fun and energizing event, which will come as no surprise to anyone who knows the Mason Square community. SftP and Arise shared a table and passed out our flyer on mold along with SftP and Arise pamphlets and earth stickers for the kids (very popular). We also offered little demonstrations showing how yeast (similarly to mold) grows in water and dies in vinegar — supporting the recommendation to clean with vinegar. And (less relevantly, but even more fun) we inflated balloons with the CO2 produced by reacting baking soda and vinegar in a bottle. Lots of people signed up to be on the Mold Action Committee alert list. We'll be using that list to mobilize support for changing the state Sanitary Code to include provisions regarding mold. (We expect a new round of public hearings to be held across the state this summer… stay tuned!)
"Mold, Housing, and Health: A Community Conversation with Tatiana 'the Mold Lady' and UMass Genomicist Li-Jun Ma." Saturday, April 12, 1:00-3:00 at Arise for Social Justice, Springfield (467 State Street). Li-Jun Ma, professor in the UMass Biochemistry and Molecular Biology department, offered scientific background on mold and human health; Li-Jun's student, Hannah, reported on her work in Texas doing mold remediation in the wake of last year's hurricanes; Tatiana (of Arise and SftP) presented her story of struggles with mold—from the hours she spends cleaning her walls with vinegar, to her court battles, to her search for reliable "mold experts"; Tatiana's son, Davaughn Coppedge, presented his Mold Rap; Liz Bewsee (of Arise) provided essential information on housing law; and Tavar Jones (of SftP and Arise) emphasized the importance of political organizing in pursuing environmental and health justice.
Mold, Housing, and Health Flyer. Thanks to Joelle and Kaitlin for putting together this great flyer!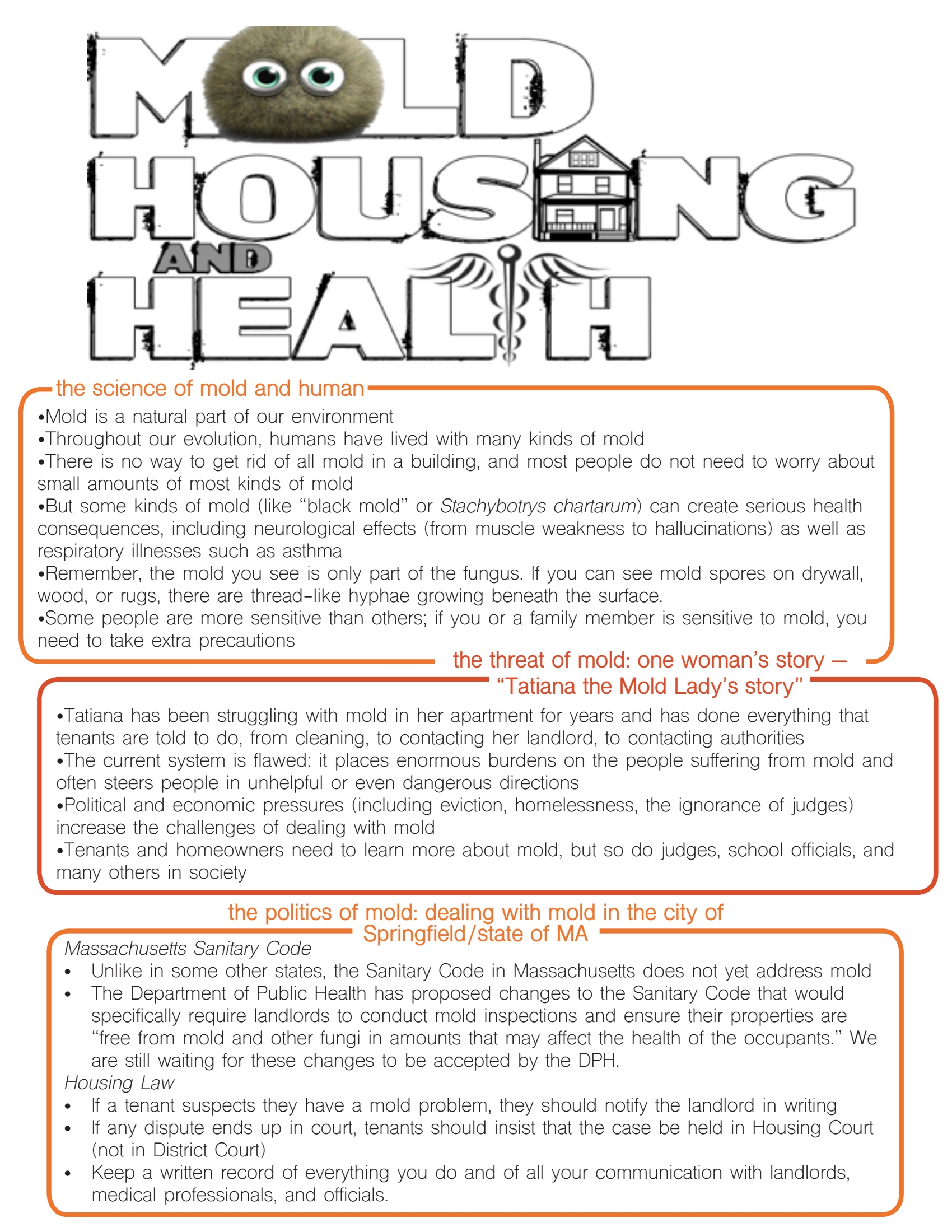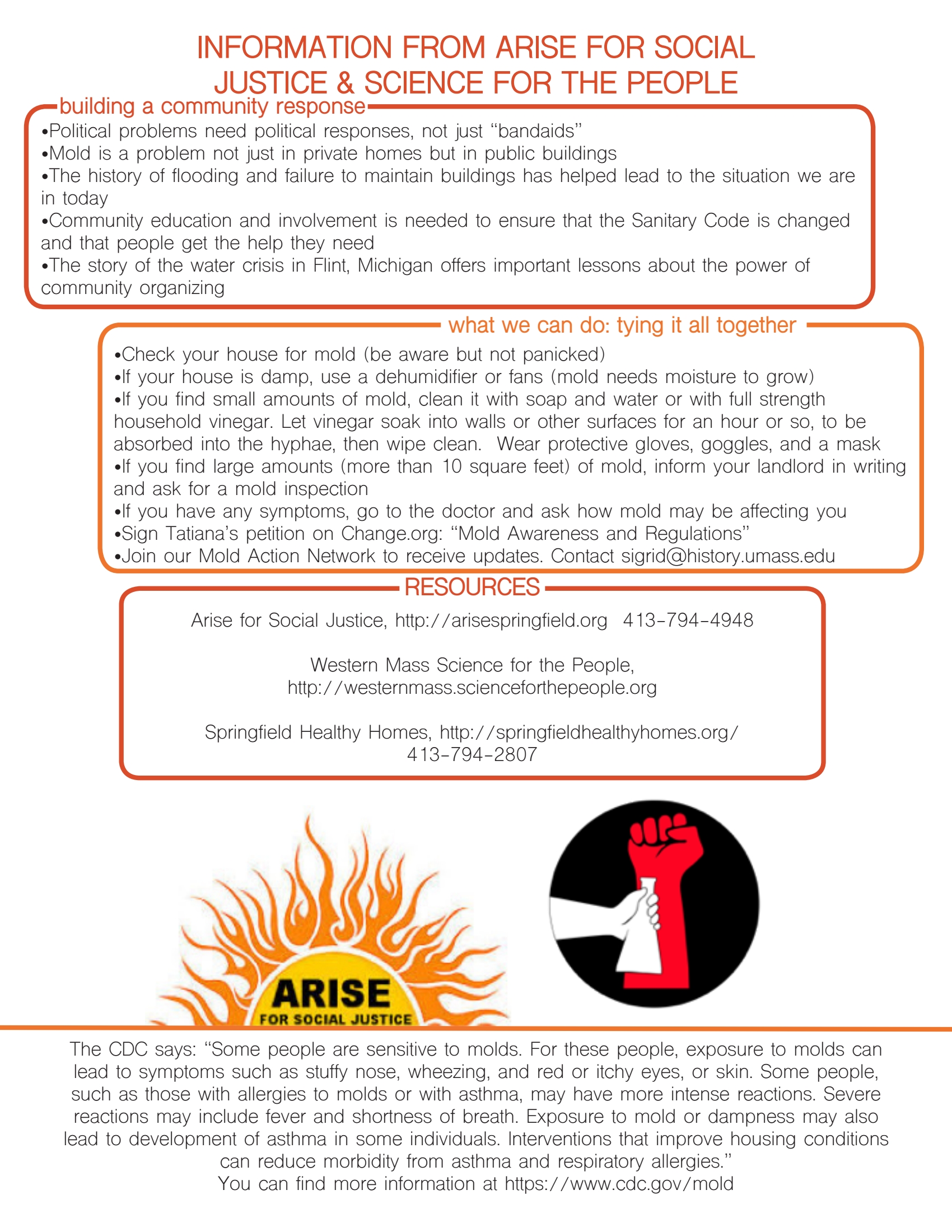 Mold Resource Binder: UMass public health and history student Amanda has put together a great resource binder on mold, housing, and health — helpful for people battling mold in their homes or in the political arena. We plan to keep the physical copy at Arise and will see about making it available on line as well.