Western Mass Science for the People has partnered with the Springfield grassroots organization Arise for Social Justice to pursue a community campaign on mold, housing, and health. We had been looking for ways to be useful to local communities in the spirit of the best solidarity science work. Then Tavar and Lisa from Arise came to an SftP meeting at UMass and shared the story of "Tatiana the Mold Lady." A Springfield mom, Tatiana has developed a community reputation for her expertise (earned the hard way) on mold: her son suffers respiratory problems from exposure to mold in their home. Sadly he is not alone: mold is a significant contributor to asthma, and Springfield has recently been named the "most challenging place in the U.S. to live with asthma" by the Asthma and Allergy Foundation of America.
A number of other local organizations are working on this important issue, including the Pioneer Valley Asthma Coalition and Springfield Healthy Homes. We're excited to contribute in our own way, forging solidarities between STEM workers and community members.
We expect to be mobilizing our network this summer to testify in favor of supporting the amendments to the Massachusetts Sanitary Code currently under consideration by the Department of Public Health. The current code has no specific provisions regarding mold; the proposed amendments address this gap among numerous others. The full text of the current code with the proposed changes is available here.
Our activities so far:
Tabling at Juneteenth Celebration, Hennessey Park, Springfield We had a Science for the People table at the Juneteenth Celebration organized by Arise for Social Justice. We passed out information on mold and offered prizes to people who correctly answered questions on a quiz, and we also gathered name and contact information so that we can mobilize people for future actions. Brian Schultz (entomologist at Hampshire College) brought his microscope with a mold sample for people to view, along with an assortment of insect specimens that inspired many children (and a few adults)! We handed out game boards and instructions for two African games that involve logic and mathematical principles. And we demonstrated (as in previous events) the way vinegar stops yeast (and by extension, mold) from growing. A great time was had by all!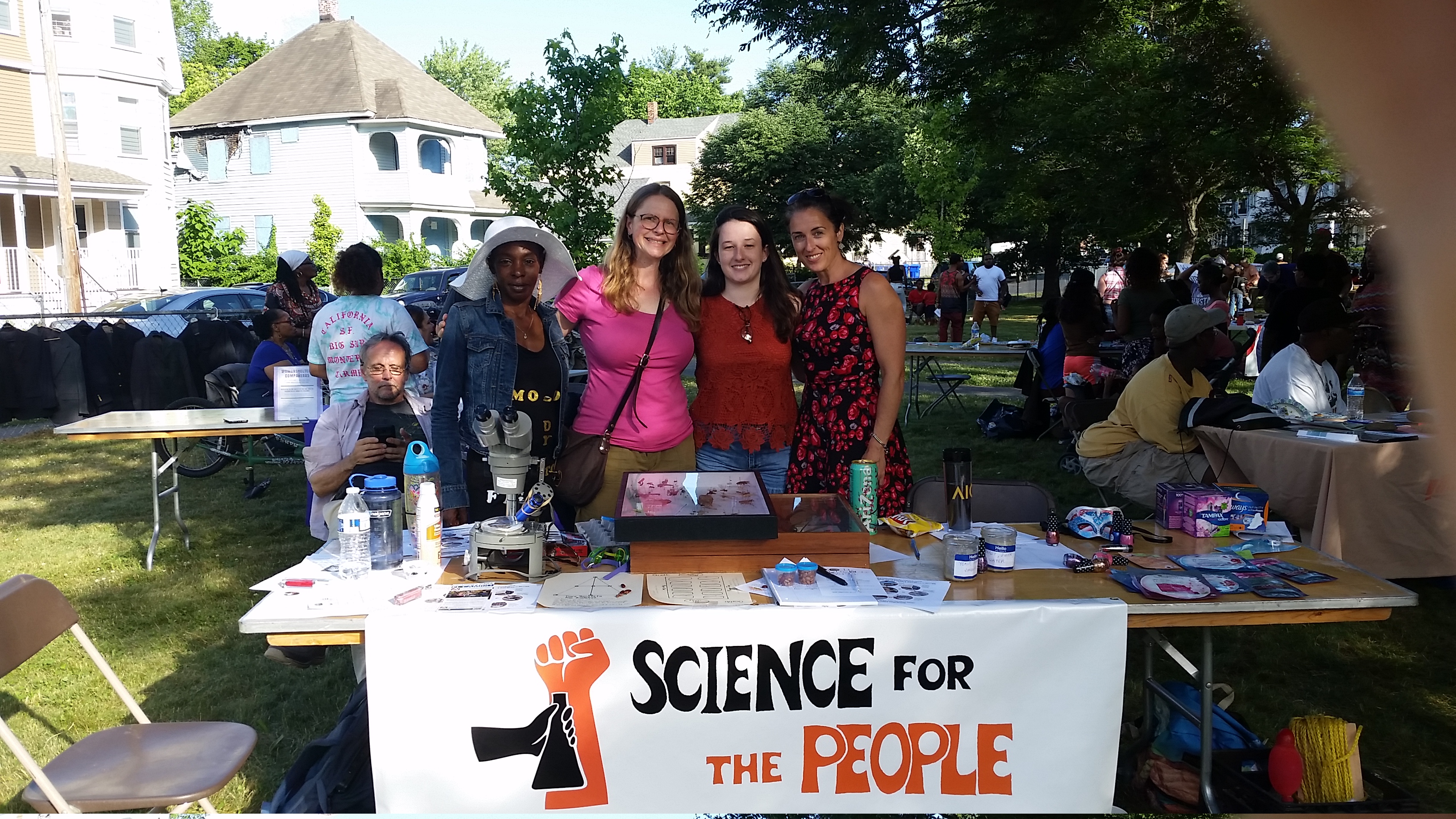 Rally and Civil Disobedience with the Poor People's Campaign. A number of our members joined the rally in Springfield's Court Square on Monday, June 4th for the fourth week of protests organized by the revived Poor People's Campaign, originally launched by Martin Luther King in 1968. The theme for this week was the Right to Health and a Healthy planet — obviously relevant to SftP and to our ongoing collaboration with Arise for Social Justice. Tatiana gave a powerful speech on her personal and political battles with mold, followed by her son Davaughn's Mold Rap. Tatiana and Sigrid then engaged in civil disobedience with 19 other people at the state government headquarters in Springfield. The mayor had gotten wind of the plans and had rushed to comply with longstanding demands to fund a city sustainability coordinator and establish guideposts for fossil fuel reductions. So we had an important victory before we even began and were able to shift our target to the governor's office. The flyer for the event is here. And here's a photo of one of our signs at the rally, as captured on local news: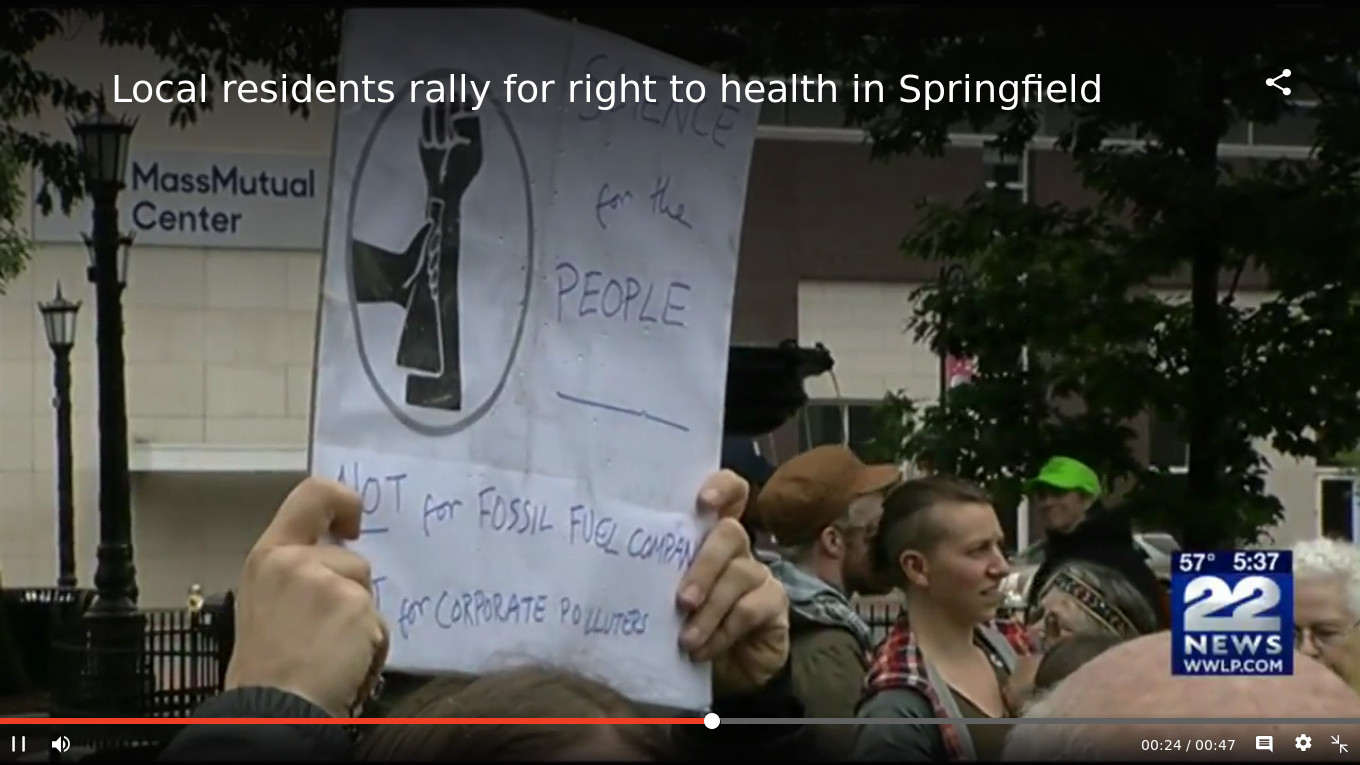 Tabling at the Mason Square block party, organized by the MLK Jr. Community Center of Springfield. This was a fun and energizing event, which will come as no surprise to anyone who knows the Mason Square community. SftP and Arise shared a table and passed out our flyer on mold along with SftP and Arise pamphlets and earth stickers for the kids (very popular). We also offered little demonstrations showing how yeast (similarly to mold) grows in water and dies in vinegar — supporting the recommendation to clean with vinegar. And (less relevantly, but even more fun) we inflated balloons with the CO2 produced by reacting baking soda and vinegar in a bottle. Lots of people signed up to be on the Mold Action Committee alert list. We'll be using that list to mobilize support for changing the state Sanitary Code to include provisions regarding mold. (We expect a new round of public hearings to be held across the state this summer… stay tuned!)
"Mold, Housing, and Health: A Community Conversation with Tatiana 'the Mold Lady' and UMass Genomicist Li-Jun Ma." Saturday, April 12, 1:00-3:00 at Arise for Social Justice, Springfield (467 State Street). Li-Jun Ma, professor in the UMass Biochemistry and Molecular Biology department, offered scientific background on mold and human health; Li-Jun's student, Hannah, reported on her work in Texas doing mold remediation in the wake of last year's hurricanes; Tatiana (of Arise and SftP) presented her story of struggles with mold—from the hours she spends cleaning her walls with vinegar, to her court battles, to her search for reliable "mold experts"; Tatiana's son, Davaughn Coppedge, presented his Mold Rap; Liz Bewsee (of Arise) provided essential information on housing law; and Tavar Jones (of SftP and Arise) emphasized the importance of political organizing in pursuing environmental and health justice.
Mold, Housing, and Health Flyer. Thanks to Joelle and Kaitlin for putting together this great flyer!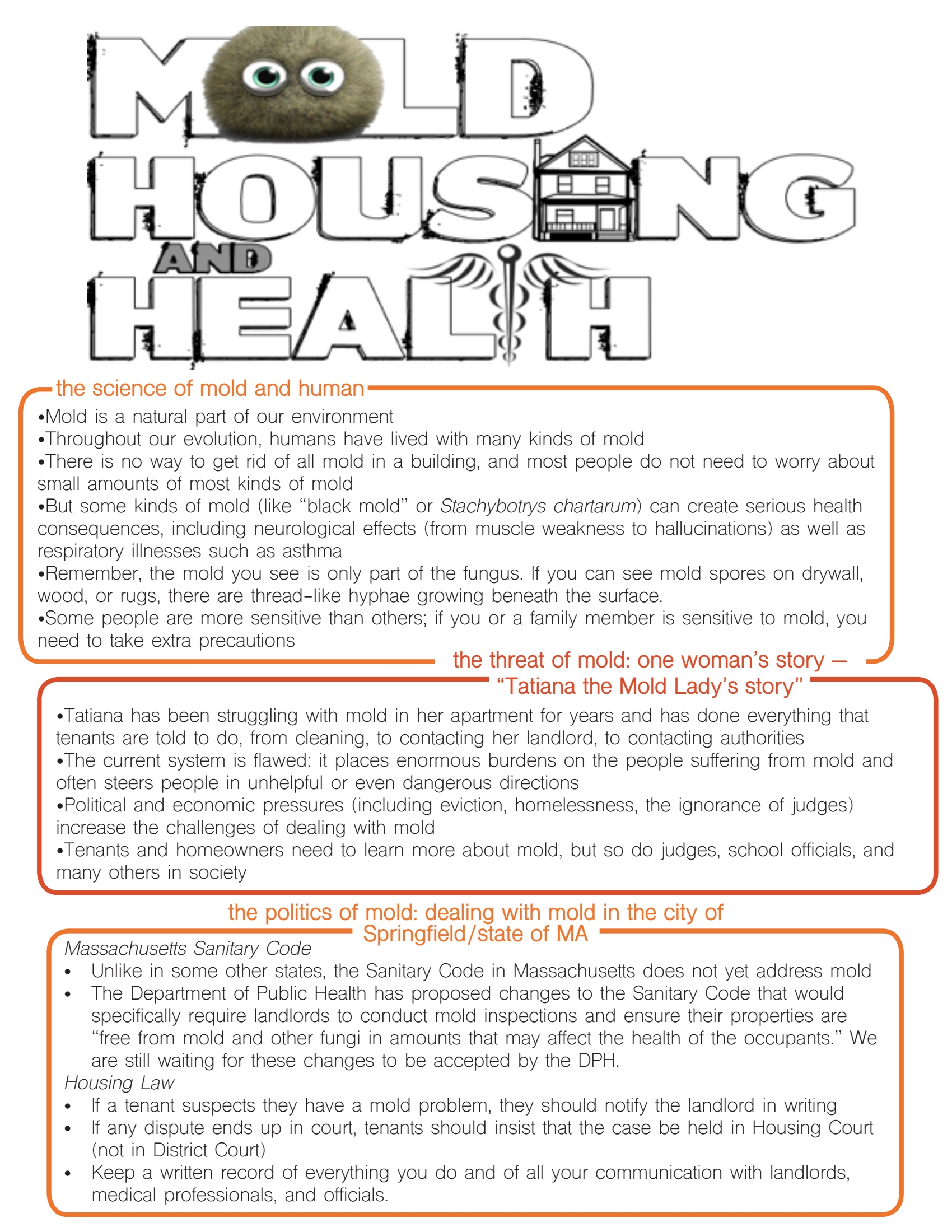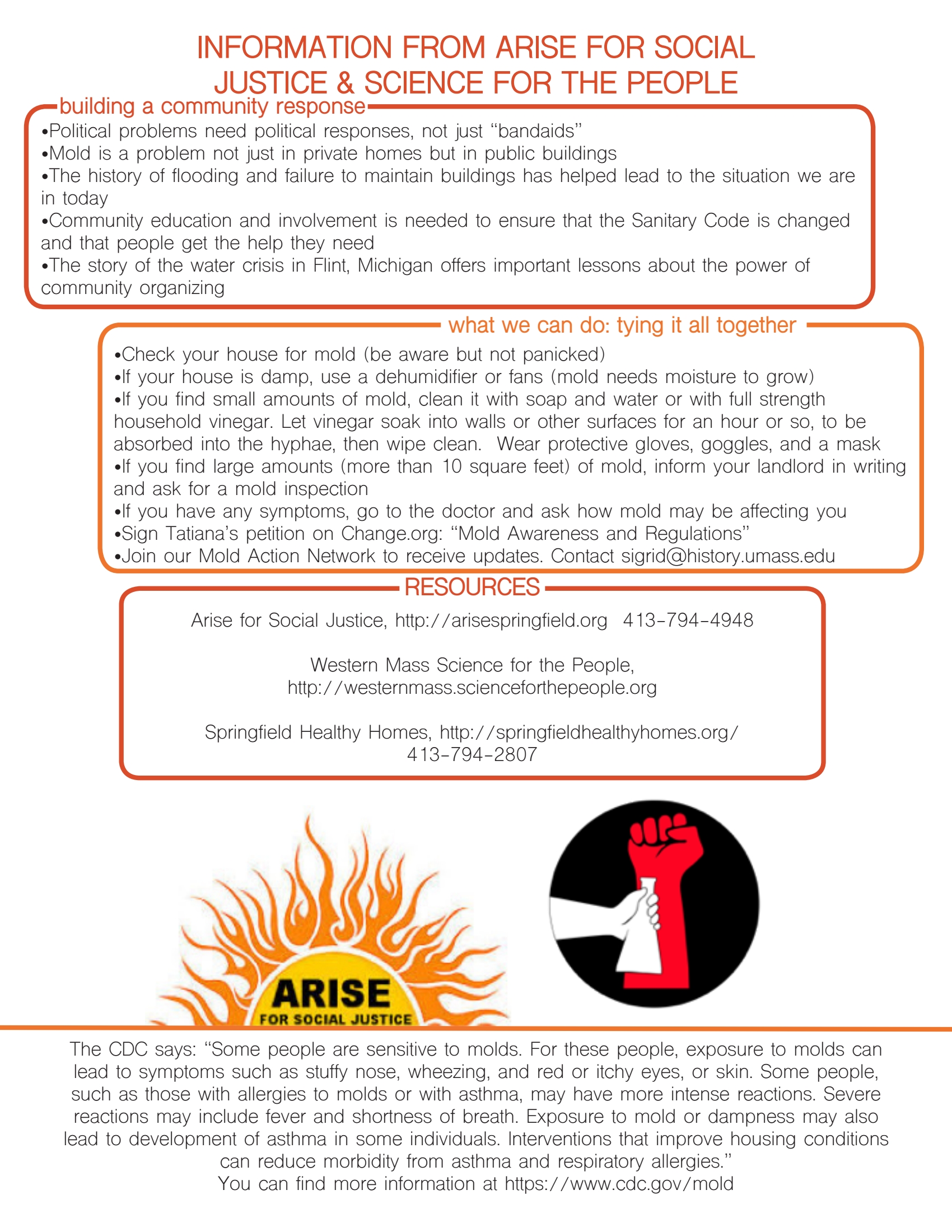 Mold Resource Binder: UMass public health and history student Amanda has put together a great resource binder on mold, housing, and health — helpful for people battling mold in their homes or in the political arena. We plan to keep the physical copy at Arise and will see about making it available on line as well.