Welcome!
Science for the People: Western Mass Fall Meeting Schedule
Begins September 5! All meetings 9:30 to 11am!
1st & 3rd Thursdays in Amherst at Herter Annex 121, UMass
2nd & 4th Thursdays in Springfield at Arise Office, 467 State St
In the event of a 5th Thursday, we will take a rest week unless otherwise announced
NEXT MEETING: Thursday, September 20, 9:30-11:00 a.m. Herter Annex. We will discuss Neil DeGrasse Tyson's new book Accessory to War, on the relationship between astrophysics, the space program, and militarism. If people can read (or have read) the book itself, that's great! For many of us, we will familiarize ourselves with the content of the book through this radio interview (and/or the accompanying text highlights) available here: http://www.wbur.org/hereandnow/2018/09/11/neil-degrasse-tyson-space-military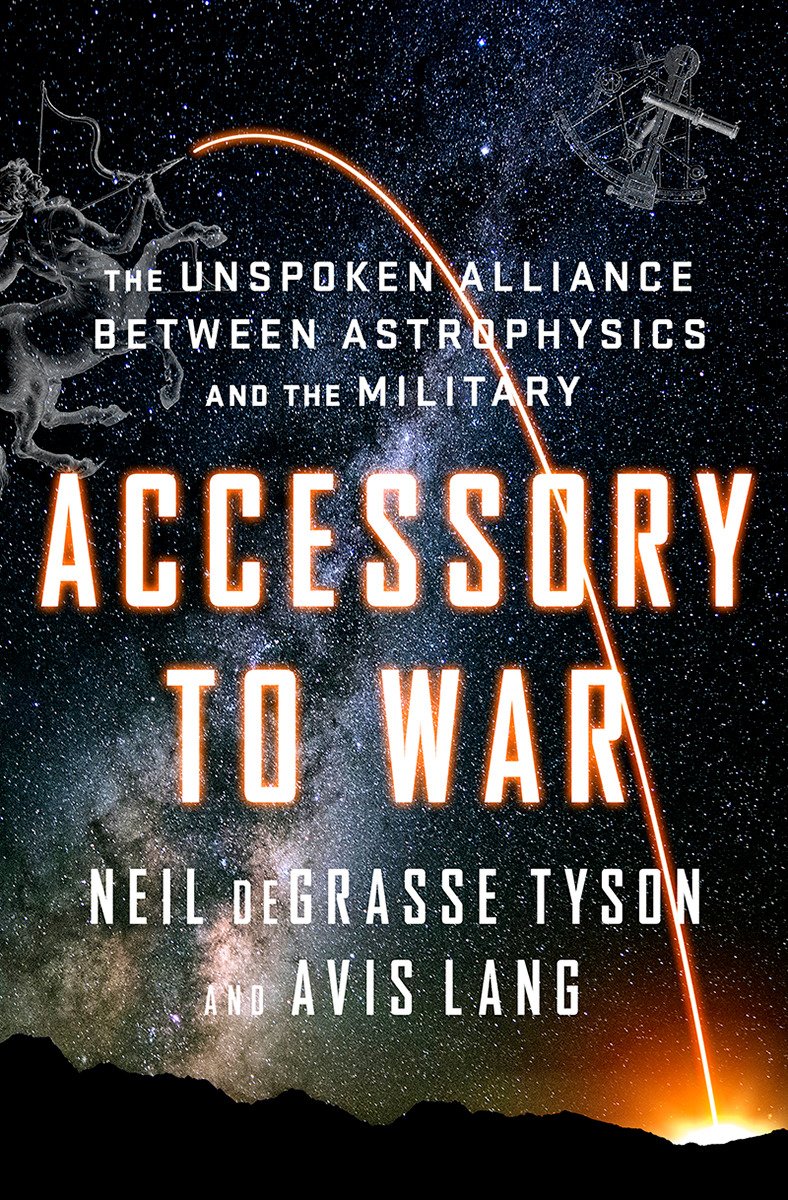 Beginning to End Hunger Book Talk
Tuesday, September 25, 4:00-5:30 at Thompson 620, UMass
The Western Mass Chapter of Science for the People invites the public to join political agroecologist M. Jahi Chappell in a discussion of his path-breaking new book: Beginning to End Hunger: Food and environment in Belo Horizonte, Brazil and beyond.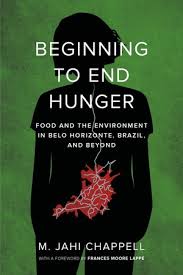 Chappell presents the story of Belo Horizonte, home to 2.5 million people and the site of one of the world's most successful food security programs. Since its Municipal Secretariat of Food and Nutritional Security was founded in 1993, Belo Horizonte has sharply reduced malnutrition, leading it to serve as an inspiration for Brazil's renowned Zero Hunger programs. The secretariat's work with local family farmers shows how food security, rural livelihoods, and healthy ecosystems can be supported together. In this convincing case study, M. Jahi Chappell establishes the importance of holistic approaches to food security, suggests how to design successful policies to end hunger, and lays out strategies for enacting policy change. With these tools, we can take the next steps toward achieving similar reductions in hunger and food insecurity elsewhere in the developed and developing worlds.
M. Jahi Chappell is a political agroecologist with training in ecology and evolutionary biology, science and technology studies, and chemical engineering. He is a Senior Research Fellow at the Centre for Agroecology, Water and Resilience (CAWR) at Coventry University, a Fellow of Food First/the Institute for Food and Development Policy, and an Adjunct Faculty member of the School of the Environment at Washington State University.
Science for the People Magazine Relaunch
Check out Science for the People's new issue on geoengineering!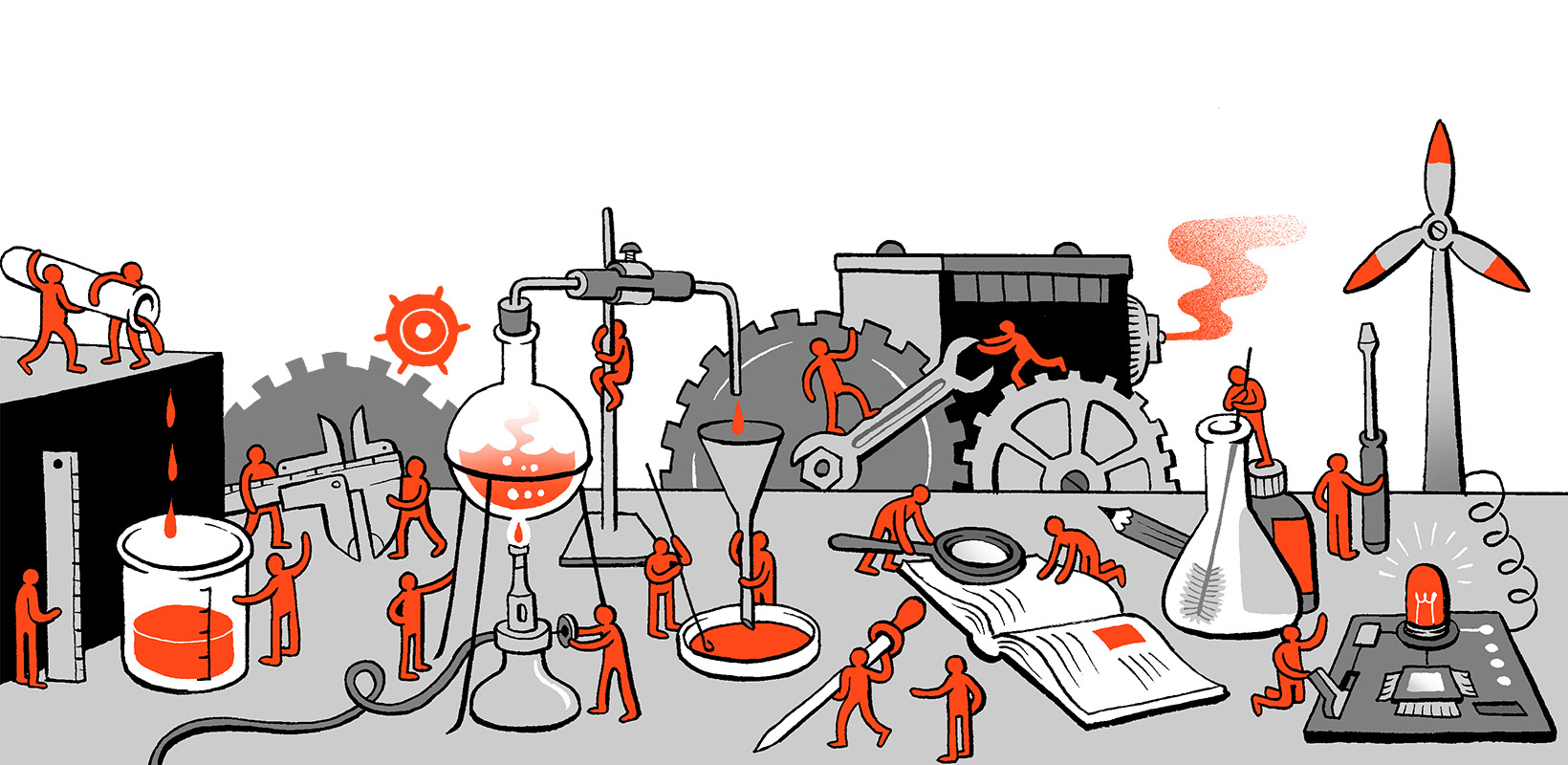 Looking for a way to help Science for the People? If you'd like to be helpful but can't make meetings, one GREAT thing you could do would be to share your knowledge of notable examples of science for and/or against the people happening here in Western Mass. You should completely feel free to share descriptions of your own work if you think it fits. We have made a convenient web-based form so that you can submit these examples either anonymously or with your info included. We would like to be able to share the positive examples to inspire others… and consider the possibility of following up on the negative examples in future campaigns.
New Issue of GQM, the Magazine of GWIS (Graduate Women in STEM) A shout-out to Joelle Labastide and her colleagues in GWIS for putting out another great issue of GQM. This issue is titled Tuning In and includes articles, art, and even STEM-related playlists.
*********************
Previous Meetings and Events
"Mold, Housing, and Health: A Community Conversation with Tatiana 'the Mold Lady' and UMass Genomicist Li-Jun Ma." Saturday, April 12, 1:00-3:00 at Arise for Social Justice, Springfield (467 State Street). Download PDF of Poster here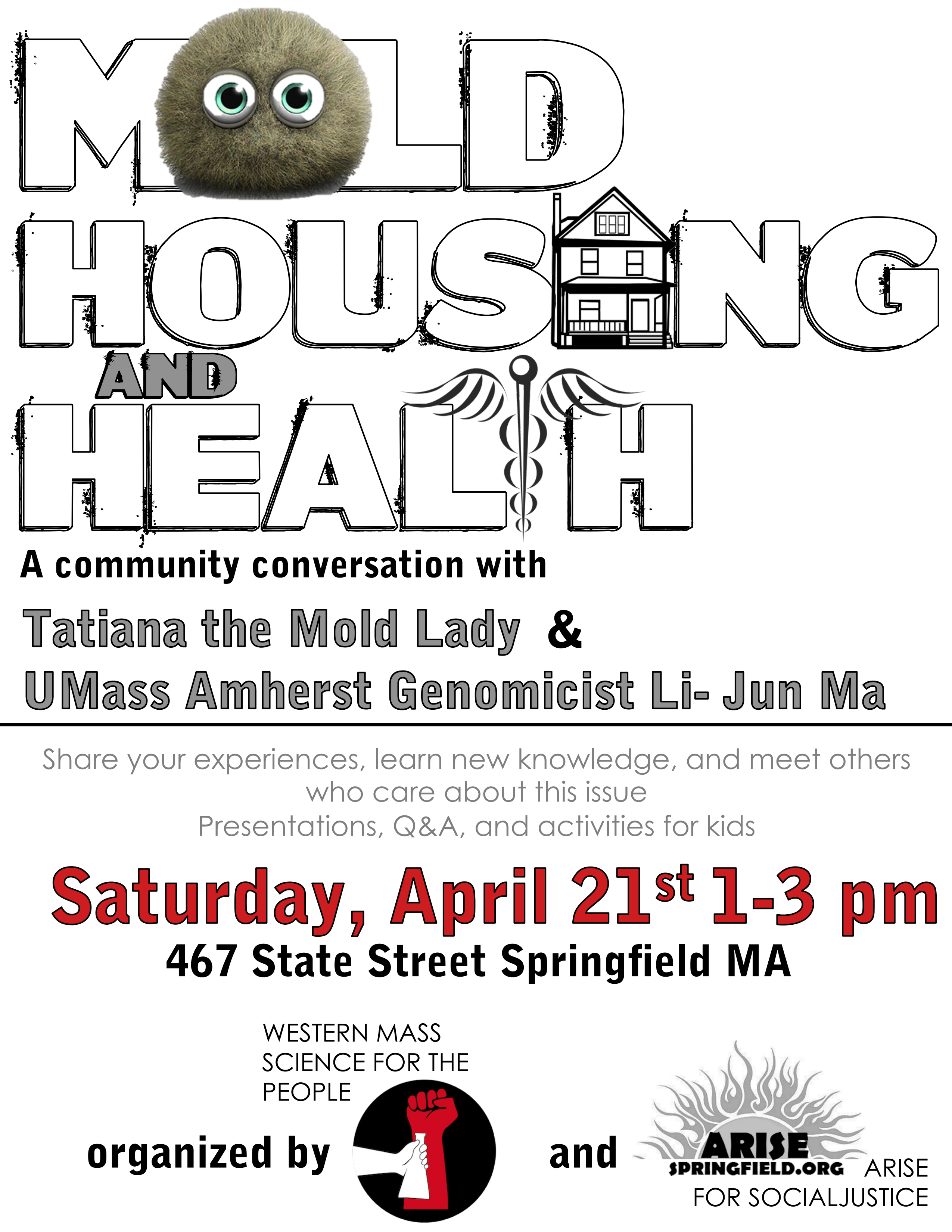 March for Science in Boston (April 14) Our chapter has decided that our energy (both human-carbon and fossil-carbon) will best be spent locally working on community organizing like the Mold event. However, the Boston chapter will be ensuring a presence for Science for the People at the Boston March for Science on Saturday, April 14th. To connect with them and march with the Science for the People banner, please contact Emily Glaser at glaser.em@gmail.com.
Monday, April 9, 10 a.m.: We finally met Tatiana "the Mold Lady" and learned about her long and extraordinary struggle to address the problem of mold in her rented apartment, which has had serious health consequences for her young son. We had a great discussion and are moving forward with the 4/21 event, knowing that that will be the beginning and not the end of our work on this issue. We anticipate that the event will lay the groundwork for a community education campaign (educating people who may be experiencing mold infestations, in addition to judges, school officials, and others…), and also a strategy moving forward for policy change and/or legal challenges.
Monday, March 3/5, 3/12, 3/19, 3/26, 4/2, 10 a.m.: We had lots of lively discussions about the national SftP draft principles of unity and other questions of SftP's political identity. We also have been planning an event that is coming together: "MOLD, HOUSING, AND HEALTH: A CONVERSATION WITH TATIANA 'THE MOLD LADY' AND UMASS BIOCHEMIST LI-JUN MA" — April 21st, 1:00-3:00 p.m. at Arise for Social Justice, 467 State Street, Springfield, MA. This SftP-organized event will include presentations, Q&A, and activities for kids.
Monday, February 26, 10:00 a.m. Herter Hall Annex Room 121, UMass. We identified representatives for our chapter on the national-level Steering Committee. We continued our lively discussion of just what "science for the people" means and in what ways we see what aspects of science to be political or not political. We discussed and came close to finalizing the survey on science for / against the people in Western Mass. And we made progress on at least two science workshops to be organized at Arise and the Recovery Learning Center in Springfield.
Monday, February 26, 10:00 a.m. Herter Hall Annex Room 121, UMass. We had an exciting meeting — so exciting we made it through only one item on our agenda. Two members of the Springfield organization Arise for Social Justice (Tavar Jones and Lisa Sergienko) came to talk with us about how we can collaborate on community-based projects. Out of that conversation came a number of ideas that we will begin seriously exploring.
Monday, February 12, 10:00 a.m. in Herter 601. We made a breakthrough with what we've been calling "the survey." We're going to split it up into two pieces. 1) The first will be a straight-forward effort to reach out to people throughout Western Mass to gather local examples of "science for the people" and "science against the people." We define the former as STEM work explicitly committed to solving problems of social, political, economic, and/or environmental injustice, and we especially want to highlight examples where scientists and scholars have worked in collaborative partnership with community-based organizations. We define the latter STEM work that contributes to problems of social, political, economic, and/or environmental injustice. We are especially concerned about examples where scientists and scholars have received funding from corporate or military sources that influenced the trajectory of the research. Sigrid has committed to bringing a draft to the next meeting that we hope can be tweaked and finalized for distribution. 2) The second will be a more dynamic discussion of the ethical and political "scenarios" that we have been drafting and discussing in meetings. We plan to engage these questions by creating videos of faculty engaging in critical dialogue that can then serve as a springboard for online discussion. We are using the time between now and 2/26 to brainstorm ideas for this. If you are a faculty member willing to engage in a video dialogue, or if you have an idea as to who would be good for this, please let us know. Thank you!
Monday, February 5, 10:00 a.m. in Herter 601. We talked about the SftP National Convention that happened the previous weekend and discussed the "scenarios" that people drafted for possible inclusion in our survey about science for and against the people.
Monday, January 29, 9:00 a.m. in Herter 601. We discussed Lola Fatunmbi's poem, "Bad Science," originally published in the GWIS Quarterly Magazine, our ongoing efforts to create a survey about science for and against the people, and a new idea to create "pop-up science shops" to help scientists connect with community organizations.
Monday, December 11, 9:00 a.m. in Herter 601. We discussed the upcoming national convention and revisited the idea of conducting a survey on the social responsibility of scientists and local examples of science for and against the people.
Monday, November 27th, 9:00 a.m. in Herter 601. We discussed Sophie Wang's wonderful comic "Science Under the Scope" and talked about the plans for a national Science for the People convention in Ann Arbor, Michigan the first weekend of February.
Monday, October 23rd, 9:00 a.m. in Herter 601 (UMass campus). In preparation for Jonathan King's visit (see below), we discussed this article in The Nation by Richard Krushnic and Jonathan Alan King: "Meet the Private Corporations Building Our Nuclear Arsenal". As always, please come to the meeting whether or not you are able to complete the reading!
***********************
Invest in Minds not Missiles: Resisting the Trillion-Dollar Nuclear Weapons Escalation
A lecture by MIT biologist and Science for the People member Jonathan King
Wednesday, October 25, 4:00 p.m., Gordon Hall 303, UMass Amherst
Sponsored by Western Mass Science for the People and the UMass Political Economy Research Institute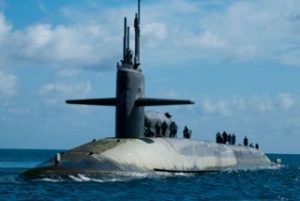 The growth of higher education and university-based scientific research in the U.S. after WWII has been critically dependent on federal investments, voted annually as part of the congressional discretionary budget. In recent years more than 55% of this budget—our income taxes—has been spent on war and weapon purchase accounts. Recently President Trump proposed more cuts in key programs supporting education and research—including NIH, NSF, EPA, and NOAA—in order to fund a $54 billion increase (~10%) in military spending. This will bring the fraction of our tax dollars spent on preparation for war to more than 60% of the total congressional budget. Many of the weapons programs—such as the proposed trillion-dollar nuclear weapons "modernization"—are provocative and destabilizing, more likely to decrease national security than increase it. The excessive costs will greatly weaken programs addressing social needs. Defending higher education and basic research will require explicitly resisting the diversion of our tax dollars to military accounts.
Speaker Biography:
Jonathan Alan King is a professor of molecular biology at MIT, where he has long taught biochemistry and directed biomedical research on protein misfolding and human disease <http://web.mit.edu/king-lab>. King is a past president of the national Biophysical Society, a former Woodrow Wilson Fellow, Jane Coffin Childs Fund Fellow, and Guggenheim Fellow, and a recipient of the NIH MERIT Award. Long involved in issues of science and society, Prof. King was a member of the original Science for the People. He served for many years on the Federation of American Societies for Experimental Biology's national committee addressing the federal R& D budget, as well as the national Joint Committee on Biomedical Research. He was also a leader of the national campaign of biomedical scientists to press the Senate to ratify the Biological Weapons Convention and helped organize a successful campaign against anthrax research at UMass Amherst. King currently serves on the Board of Massachusetts Peace Action and chairs its Nuclear Disarmament Working Group. He is also active in the national People's Budget Coalition that supports the Congressional Progressive Caucus on federal budget priorities.

Co-sponsors:
Massachusetts Society of Professors, Public Higher Education Network of Massachusetts, UMass History Department, UMass Social Thought & Political Economy Program, UMass Resistance Studies Initiative, Northampton Committee to Stop the Wars, Resistance Center for Peace and Justice