UPCOMING EVENTS:
Making Science Work for Social Justice (Register here)
A community workshop through the Sojourner Truth School for Social Change Leadership
March 28, 2020 @ 3:00 pm – 6:00 pm
South Congregational Church, Great Space, 45 Maple Street, Springfield, MA
Class Description: Making Science Work for Social Justice will explore the principles of 'solidarity science' and what it means for our community. We will present a few examples that illustrate how solidarity science solves problems by recognizing the significance of social, political, economic, and cultural contexts and by inviting many people and types of knowledge to the table. Participants will workshop how we can use solidarity science to address the issues we identify in the community, and how we can make science a public good.
Our workshop is intended for a wide audience with diverse perspectives. At the core of solidarity science is ensuring that we are reaching multiple experiences and understandings to solve problems. Our audience is asking how to demand more from the scientific community, how to create coalition, how to listen to each other better, how to critique the role of science in our lives, and rather than asking, "how do we fix this?", asking, "who do we need at the table to fix this?" Everyone is warmly welcome at this lively, exciting, and provocative workshop – join us!
****************
People's Science Fair
Friday, April 17, noon to 4 p.m.
Goodell Lawn and Bernie Dallas Room, UMass
Co-sponsors to date:
Five College Lecture Fund
At UMass: College of Information and Computer Sciences, Economics Department, Graduate Employee Organization, History Department, Massachusetts Society of Professors, Professional Staff Union, Social Thought & Political Economy Program, Teacher Education and Curriculum Studies Department, Women, Gender, Sexuality Studies Department
At Smith: Center for Environment, Ecological Design, and Sustainability; Department of Geosciences; Department of Environmental Science & Policy; Spatial Analysis Lab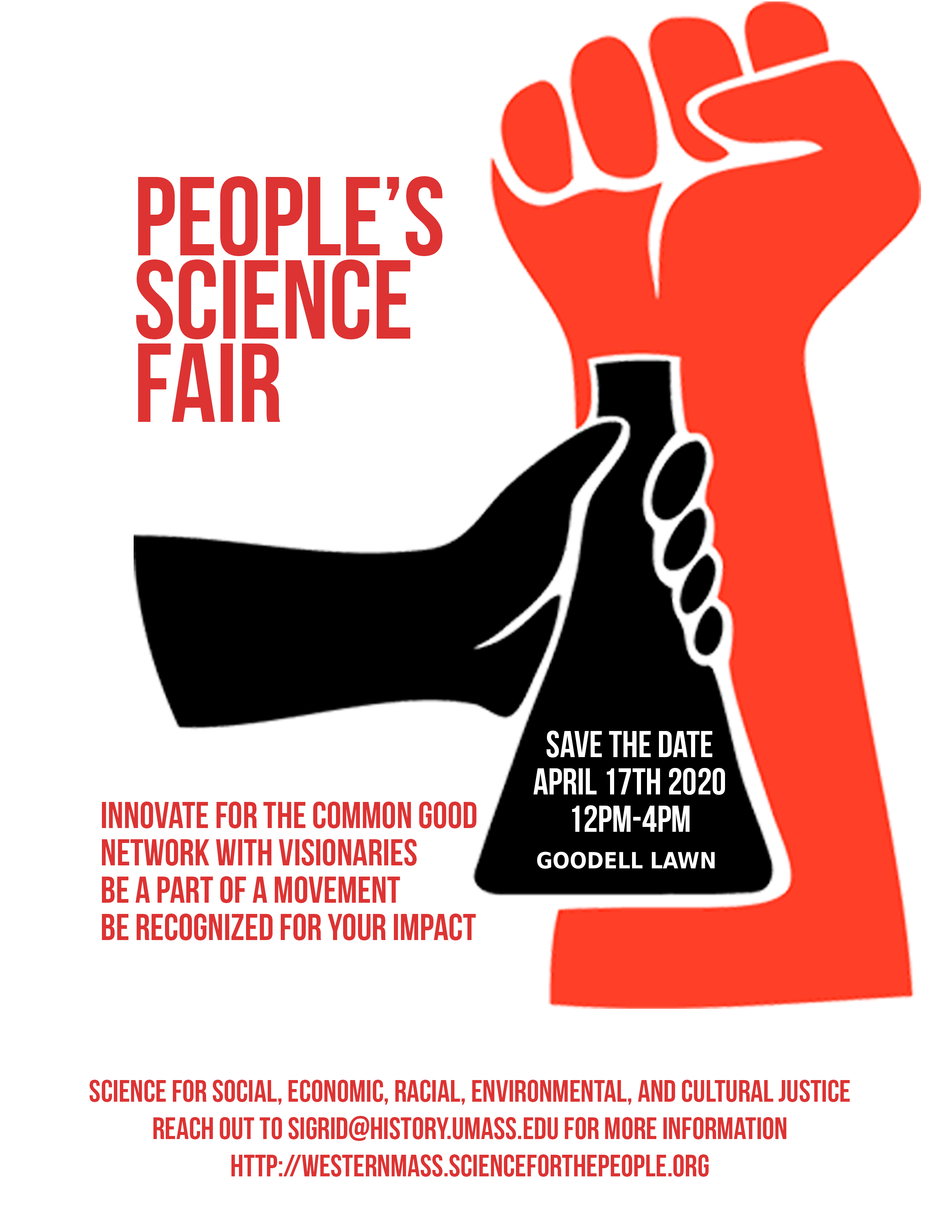 ****************
Have an event that Science for the People could sponsor?
Would you like to collaborate on an event?
Contact us! Email Sigrid Schmalzer (sigrid@history.umass.edu) or Emma Harnisch (eeharnisch@gmail.com) or through facebook.
****************************